Reciprocating compressors
Reciprocating compressors are perfect for the on-site use and for the use in small industry workshops. They are the right choice for supplying compressed air with constant pressure at minimal cost.
Authorized service
Service Kaeser 24/7
20% ECONOMY
Of the consumed energy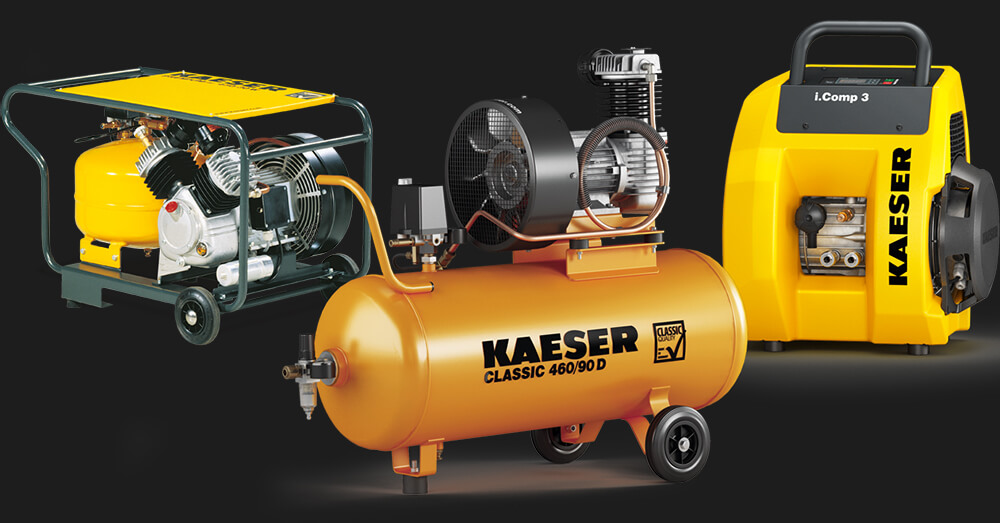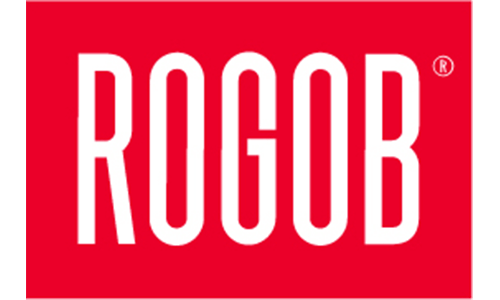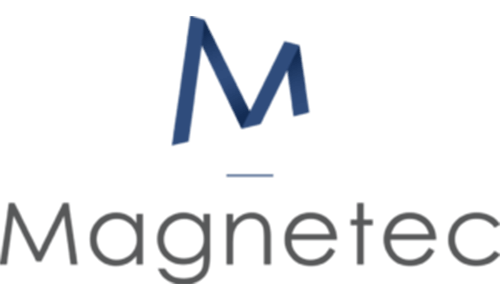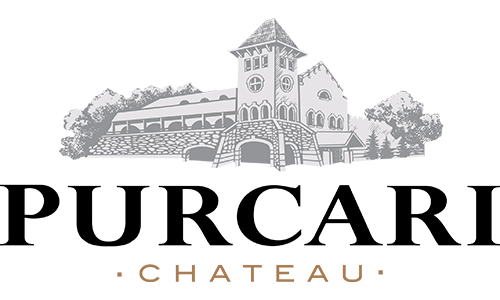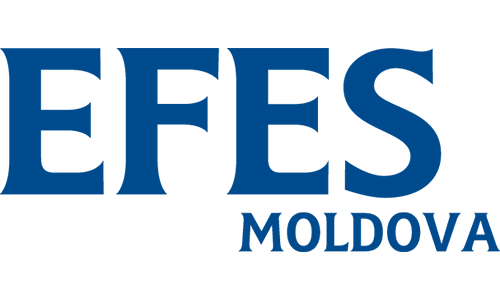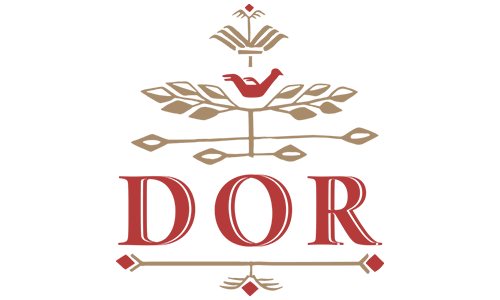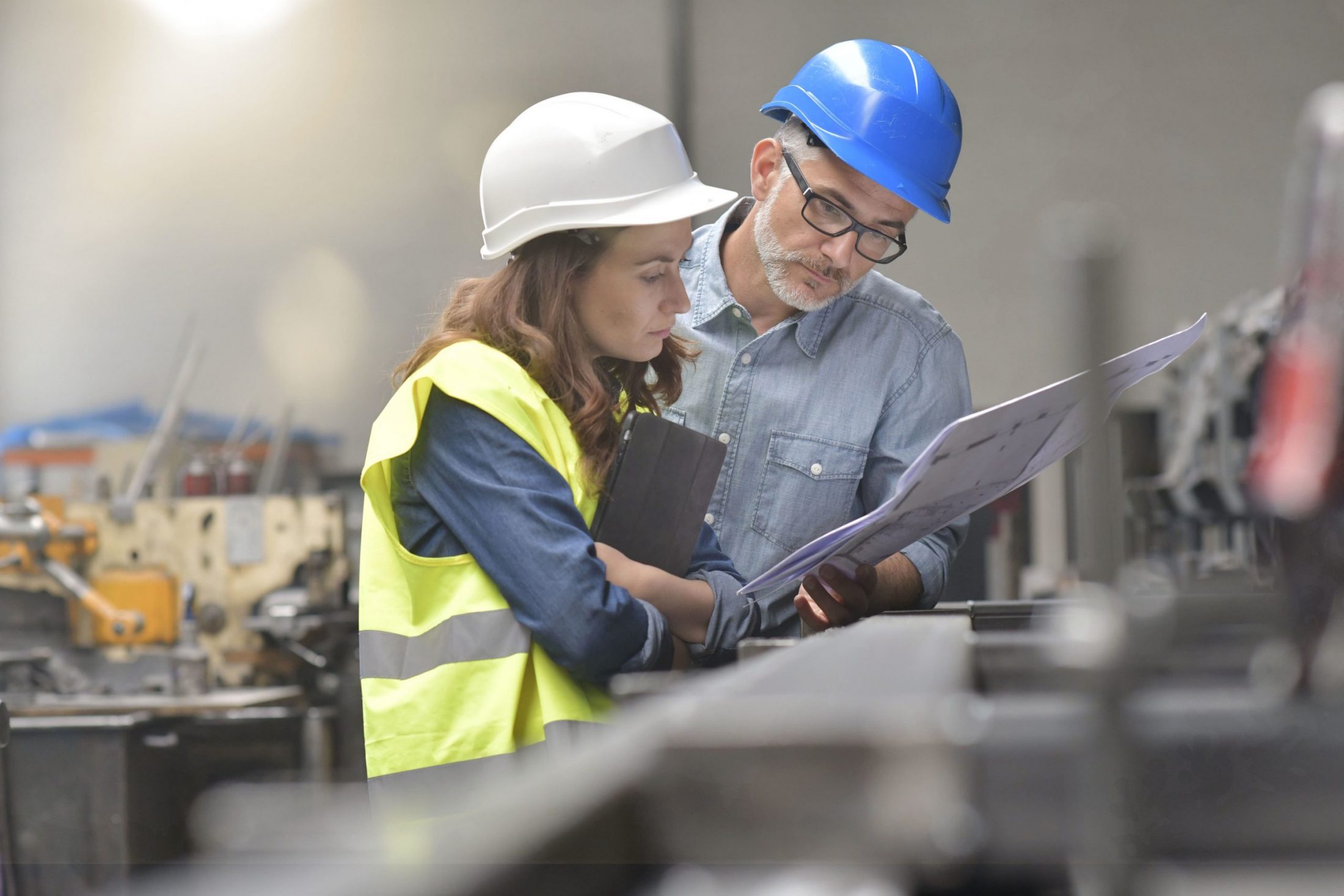 THE COSTS FOR COMPRESSED AIR SHOULD NOT BE EXORBITANT
The lifetime energy costs of a regular compressor are several times the initial purchase value, which can make any difference in the purchase price a false saving.
Efficiency and reliability are vital in the production of compressed air, and KAESER reciprocating compressors achieve these goals through quality and reliability, being built for long-term operation.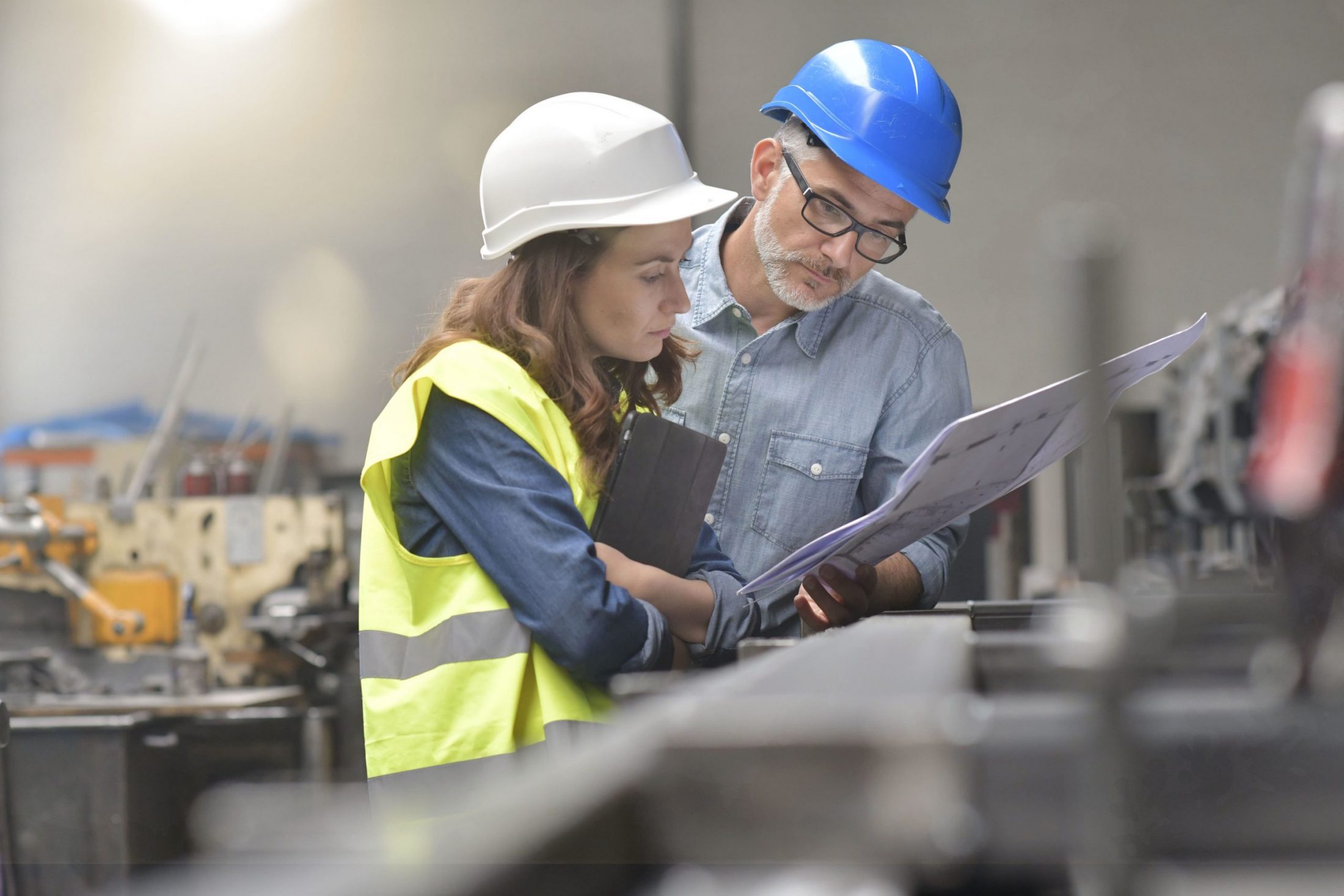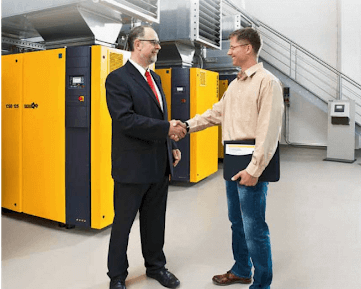 Symbols of quality and cutting-edge technology
Being made in Germany – the Reciprocating compressors from KAESER ensure exceptional quality and performance. The LwA and CE symbols guarantee that all compressors comply with legal requirements.
The exceptional quality of KAESER`s products is achieved by using the very best materials and components.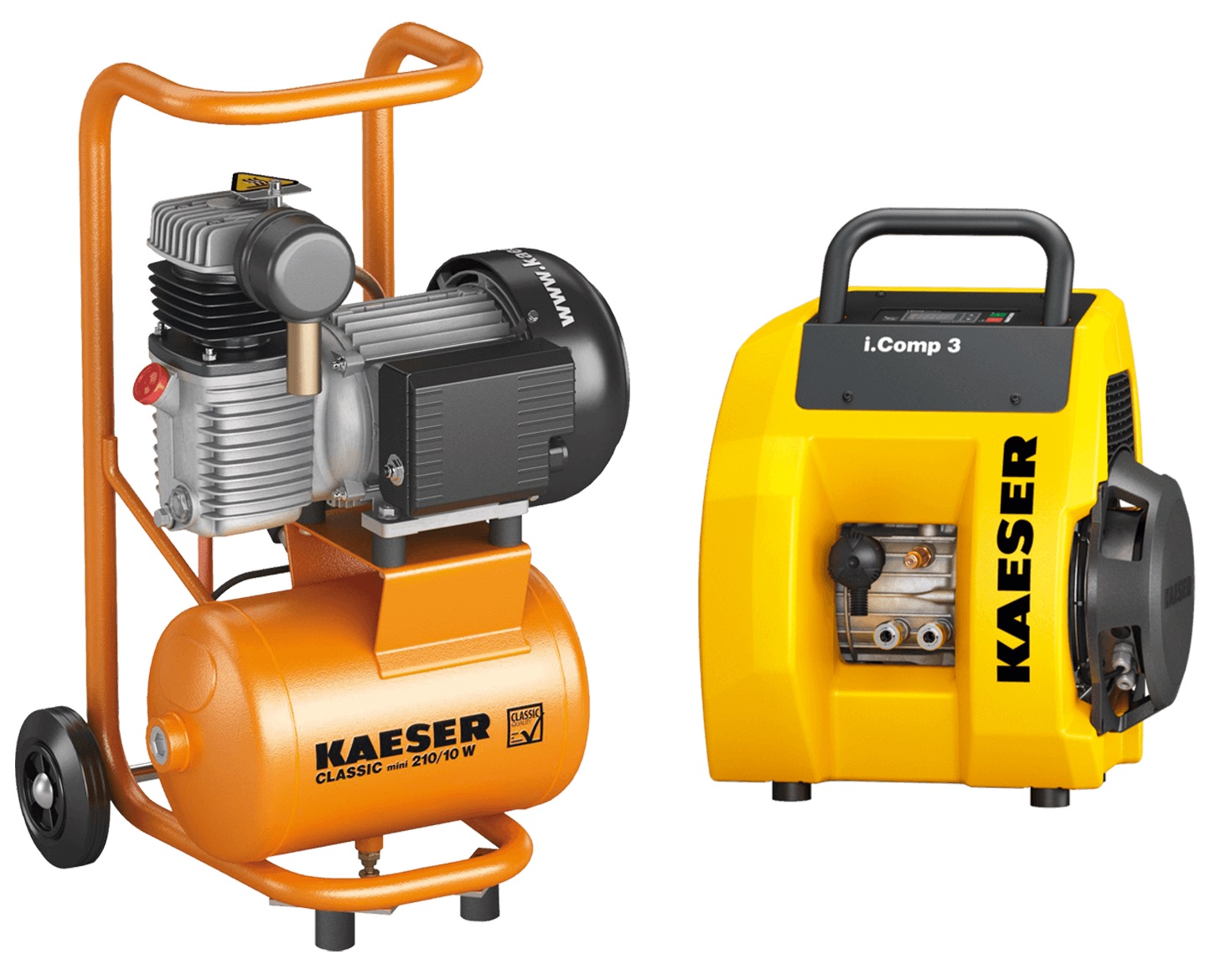 Stainless steel valves
The valve reeds in the corrosion resistant stainless steel valves are fitted with heat dissipating lift limiters to ensure air-tight valve closure and extended service life.
RESISTANT GREASING FLUID
Each reciprocating compressor is filled with a special, high-temperature-resistant fluid that almost completely removes carbon deposits from the valves.
Precision machining
Using the latest production technologies and with over 80 years of experience in precision machining, KAESER's expertise and research guarantee products to the highest quality standards.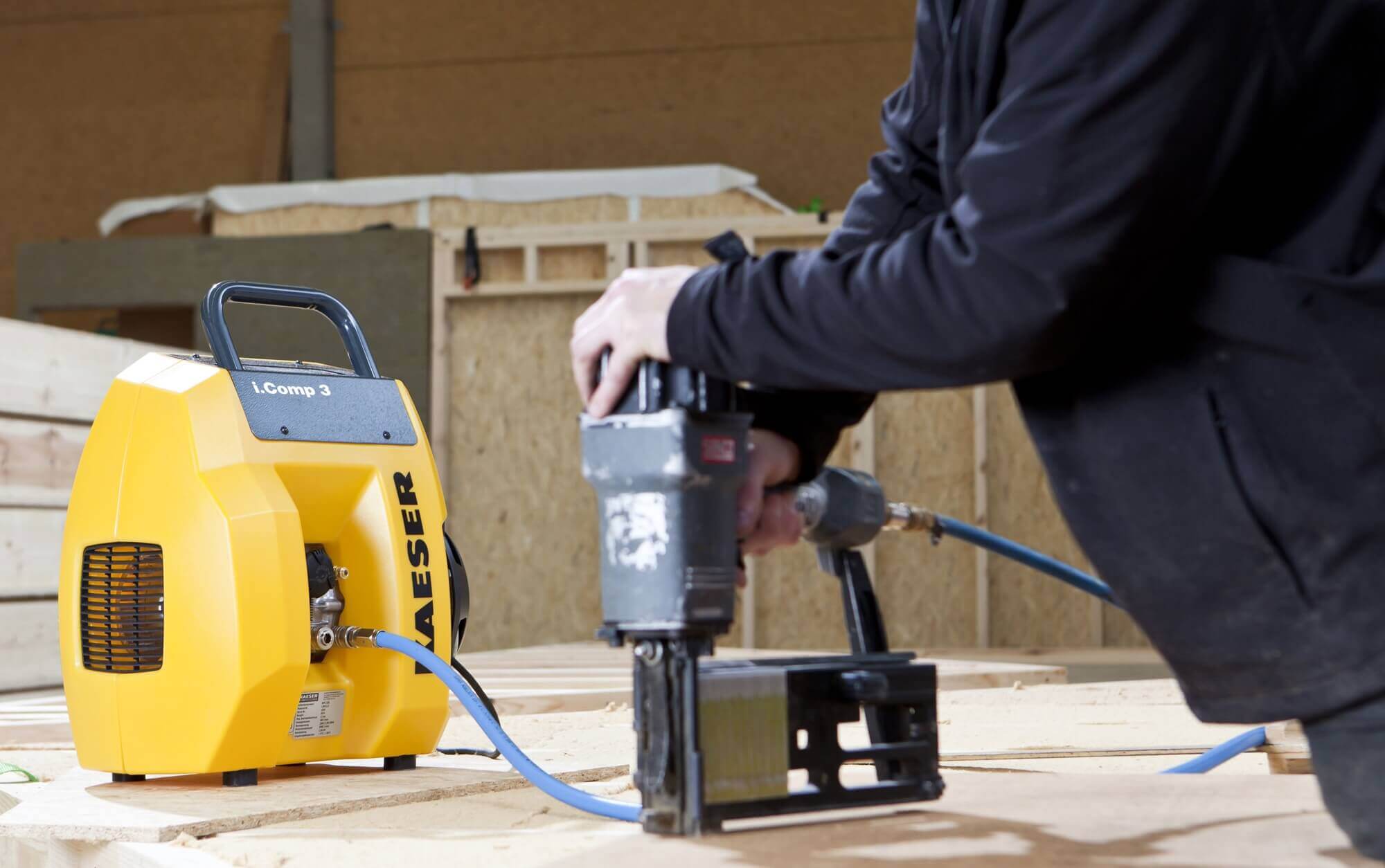 Effortless removal of plaster and faience;
Sandblasting - fast and efficient;
Quick and easy fixing of slats;
Easy floor stripping;
Medical industry;
Easy stapling of wood panels and profiles;
Clean and professional sealing;
Drilling in wood, metal or concrete;
Other areas.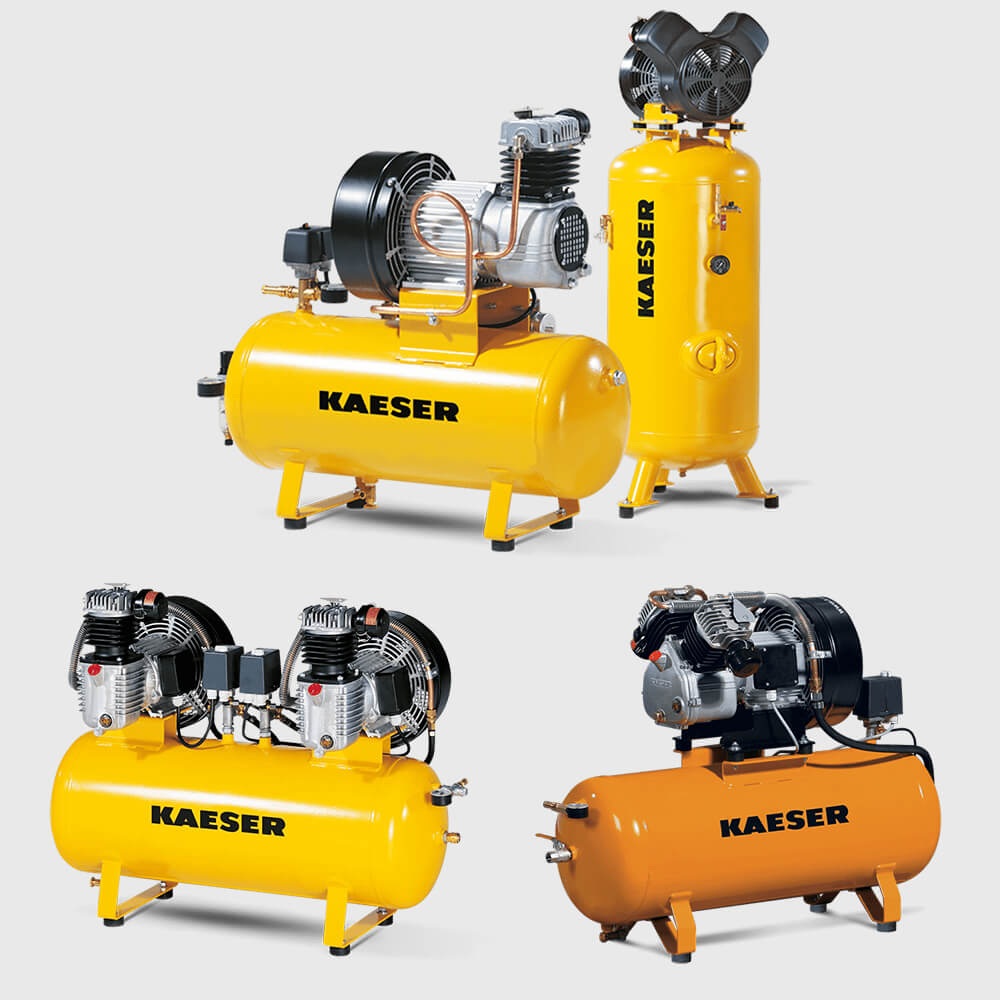 CORROSION RESISTANT VALVES
Oil-lubricated reciprocating compressors have stainless steel lamellar valves and are equipped with stroke limiters that prevent carbon deposits, ensuring valve tightness and extended life.
HIGH EFFICIENCY COOLING
The temperature of the oil and compressed air is kept to a minimum thanks to a generous fan and cooling slats. This cooling system significantly prolongs the life of the reciprocating compressor and its associated instrument.
GERMAN COMPRESSION BLOCKS
Being made of the best materials and subjected to rigorous inspection, the compression blocks are meticulously processed and carefully assembled. The transmission losses are actually eliminated, the durable electric motor being connected directly to the compression block.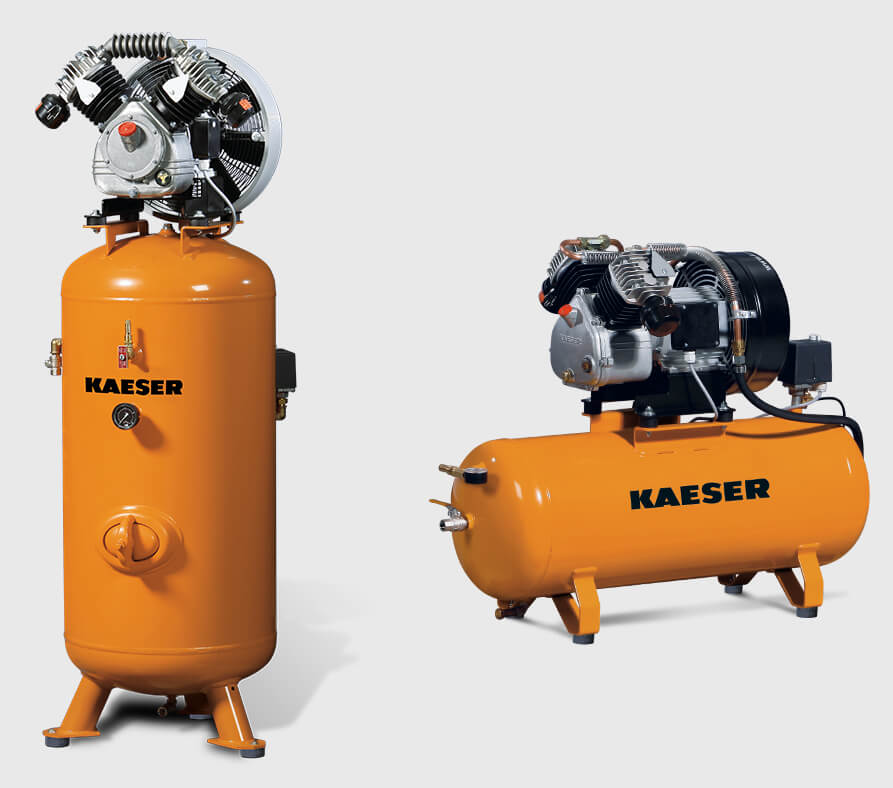 Auto Service;
Brewing and winemaking industry;
Viticulture;
Printing systems;
Fire protection systems;
Other areas.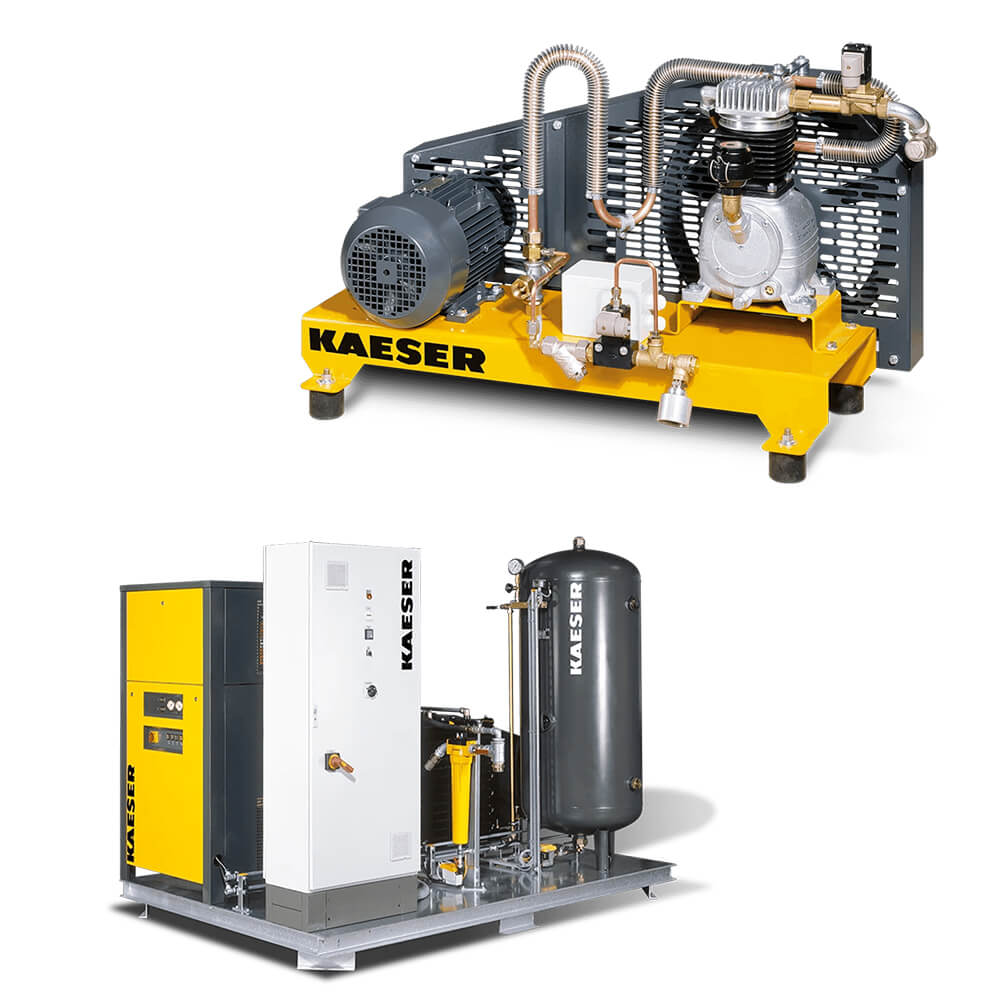 HIGH QUALITY CYLINDERS
Each Booster reciprocating compressor is equipped with very precise cylinders, each of these being manufactured through a special process, which ensures minimum oil consumption and maximum durability.
EFFICIENT ENGINES
The new generation IE3 engines are designed to consume a minimum amount of energy and provide maximum performance.
Minimum maintenance
The innovative combination of high quality components and specific design ensures long-term operation without the need for service.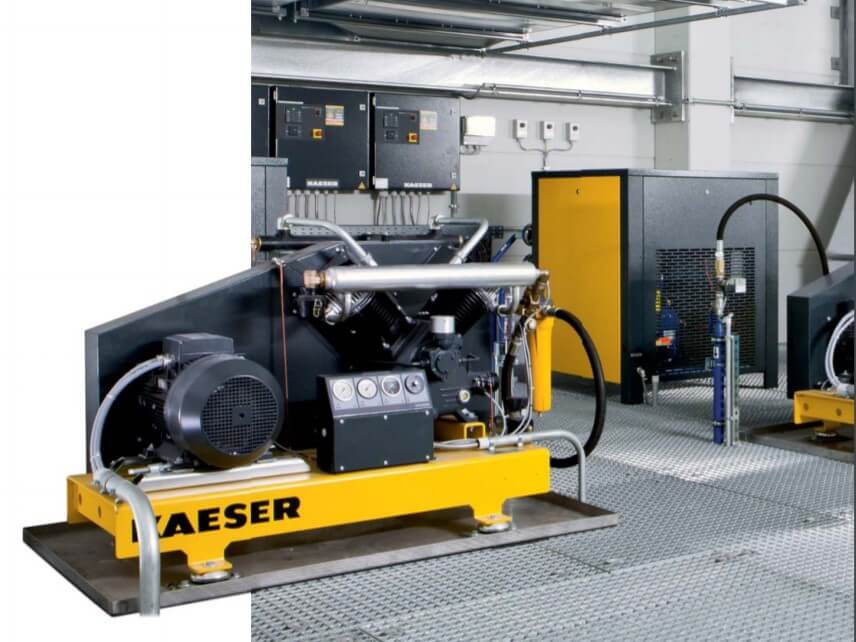 For the production of PET containers;
Nitrogen production;
High pressure for test stations;
Test stations for pressure control;
Burst pressure and pulse tests;
Other areas.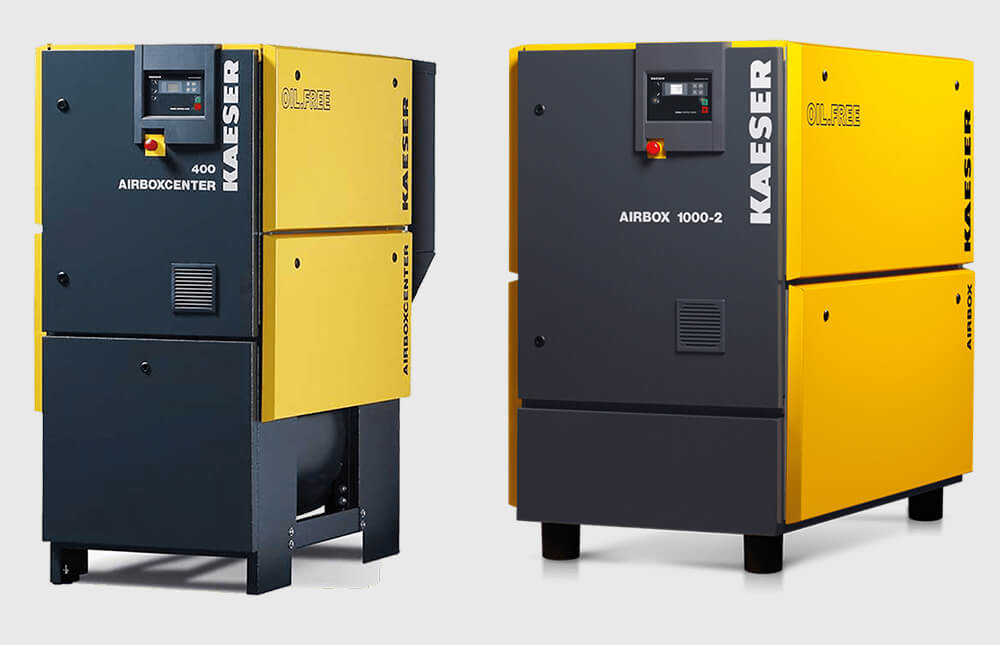 COMPLETE RECIPROCATING COMPRESSOR SYSTEMS
AIRBOX and AIRBOX CENTER compact equipment with pressurized air container, dryer and filter as optional equipment can be connected later and immediately. The integrated reciprocating compressor produces oil-free compressed air. It is controlled from the electronic controller SIGMA CONTROL BASIC or SIGMA CONTROL 2.
Ready to operate, fully automated, super quiet and vibration-free.
Reciprocating compressors for laboratories, the pharmaceutical industry, the beverage industry and the food industry;
Flow between 0.25 and 0.90 m³ / min; 7, 10 or 12.5 bar.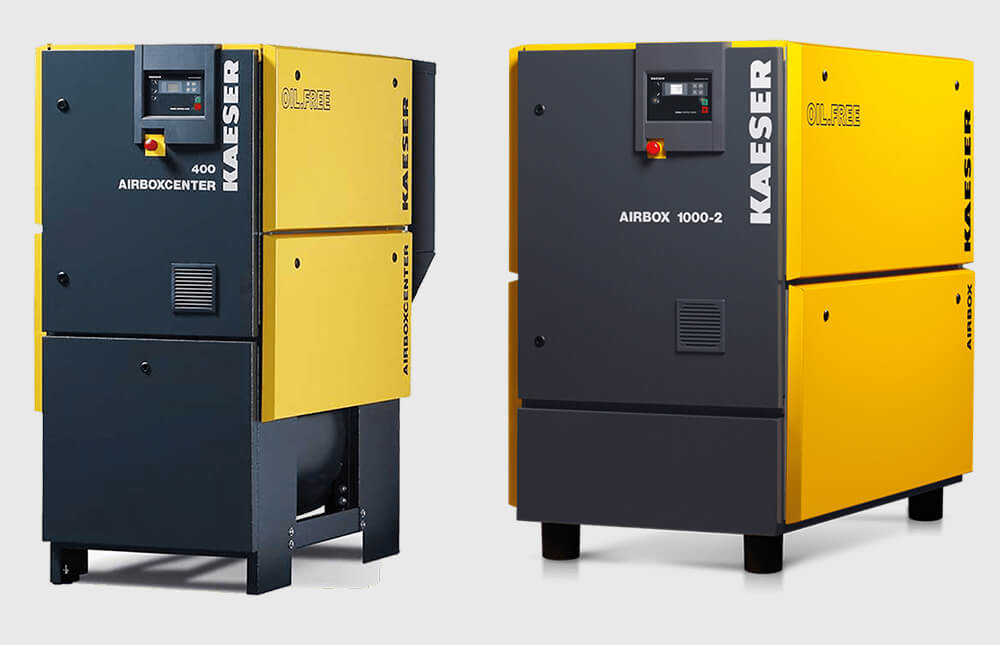 COMPLETE SYSTEMS
Ready to operate, fully automated, super quiet and vibration-free.
SILENT COMPRESSORS
Complete Reciprocating compressors systems are lined with washable foam and double vibration damping systems.
FULLY AUTOMATED
They have an electronic system that controls the working speed, the motor overload protection and are being EMC certificated for the use as a power source for home electrical systems.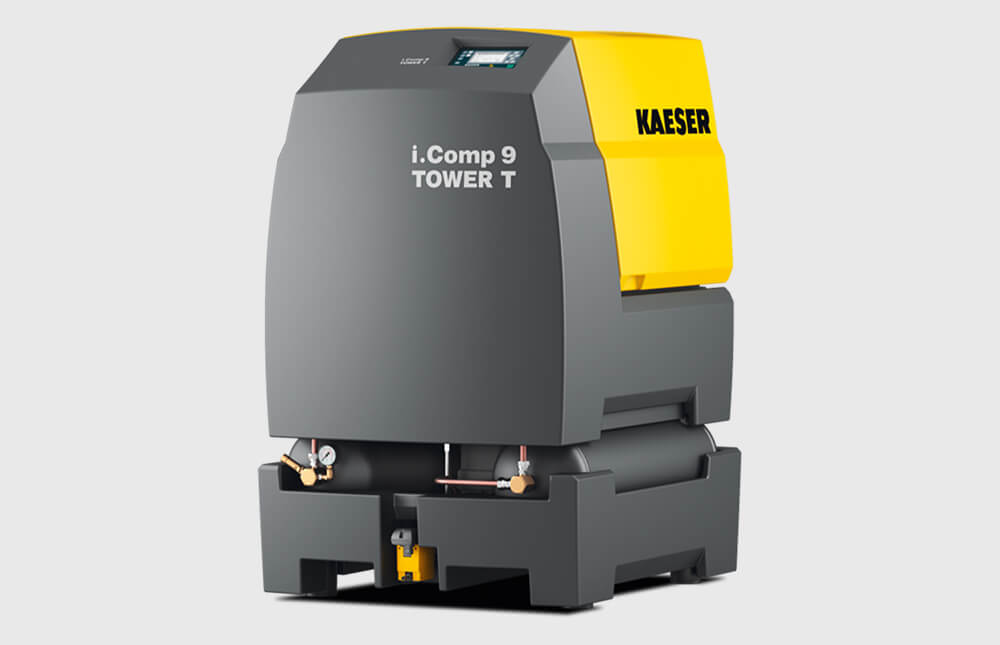 Laboratory use;
Pharmaceutical industry;
Food and beverage industry;
For workshops;
Other areas.

RECIPROCATING COMPRESSORS SUITABLE FOR VARIOUS APPLICATIONS
The optimum operating capacity of a reciprocating compressor is between 60 and 70%. For high-oscillating operation with peak load, they are the best option, especially for craft enterprises, workshops and small industry.
In the form of Booster compressors, reciprocating compressors can targetedly compress an existing network pressure up to 45 bar.